THE LITTLE PRINCE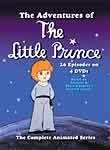 I try to ask almost everyone I meet that is close to my age if they remember the cartoon "The Adventures of The Little Prince." I have yet to find a single person that remembers this show. My mom doesn't even remember it and I used to watch it all the time when I was little.
I don't know if maybe the show just took a special hold on my imagination or if it was a really great show that lots of people watched. The latter seems more accurate.
I had forgotten about The Little Prince for a long time until I went on a trip across the US with Teens Camping Tour of the West when I was 15. On this trip there was a reading list of books we had to read, which there was plenty of time to do since desert drives as so long and boring. This list included books like "The Prophet" by Kahlil Gibran, "The Giving Tree" by Shel Silverstein, and, there it was, "The Little Prince" by Antoine de Saint-Exupery.
When I saw the little blonde headed boy with green clothes and a butterfly net on the cover I immediately remembered my favorite show from when I was a child. While this book is written is a way that a young reader could understand, this book is really for the adults that read it.
I strongly suggest to anyone out there looking for a great relaxing book to read, go buy a copy of "The Little Prince." There is a link in the sidebar of this blog to the 60th anniversary gift edition of the book.
And while I was surfing NetFlix the other day I saw that they have the entire series of the television show "The Adventures of The Little Prince." Of course, I added that to my queue. Moms and dads, please let your child meet The Little Prince, what a great story line that will engage your child's imagination and possible stay with them into adulthood.
Here is a description of the TV show:
A brave young prince travels the universe in search of adventure and friendship in this animated series based on Antoine de Saint-Exupéry's timeless children's story. The prince zips about the galaxy by catching comets in his butterfly net and holding on tight. On his journeys, he explores new planets, makes new friends and learns about love, courage and honesty along the way.