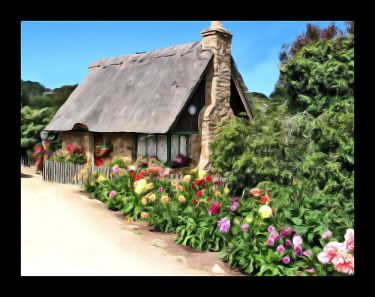 You know that movie, "Stardust?" The Village of Wall in that movie is the same village that I picture myself living in after the kids are grown up, Hubby J. and I have retired, and we are begining our lives as the old married couple that will grow old together holding hands.
I want to live in an enchanted cottage, in an enchanted town, in the middle of rolling mist covered hills.

A town with coble stone streets, a little market where everyone sells their homegrown crops. A town where there are no cell phones, televisions, computers, or other technology that garbles up our everyday life.
I would love to have a little cottage built out of stone, with a split rail fence, a babbling brook out back with some ducks, and a hammock to relax in.
I can just picture Hubby J. and I waking up to the fresh crisp air and birds chirping. Heading out to the hammock and enjoying a cup of coffee while feeding the baby deer and rabbits that call the forrest home.
The soundtrack to this life would be inspired by the songs "I found love" by the Kenny Wayne Shephard Band, and "Feels Like Rain" by John Hiatt.
How nice it would be to make this fantasy a reality. Hopefully by Sunday this we will be able to do it. (That is if one of the 100 lottery numbers Hubby J. contributed $5 to today is a winner!)