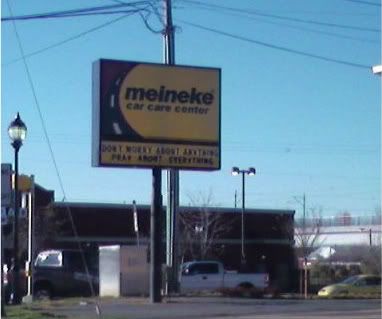 This meineke shop is located in an area of town that is not the safest place to be. Actually, it is directly across the street from the office supply store that I went to last week, and as I was walking in the door, the man who had just robbed the place at GUN POINT was running out! Yeah, that area of town.

I am always amazed to find unexpected hope, religion, spirituality, friendship, whatever you want to call it, so I just had to take a picture of this sign. It is not advertising the daily special as you would expect.

It reads: "Don't worry about anything, Pray about everything."

Isn't that the truth? When you are faced with a problem that you can't handle or fix, don't worry about it, pray about it to the One who can fix things.